Computers and Parts
Refurbished Computers:
We have no refurbished computers at the moment.
---
New Computers:
We've chosen not to build standard desktop systems, and we leave that for the major manufacturers. On very rare occasions, we design and build high-quality, high-performance custom desktop systems, although these are not inexpensive.
---
Parts:
NOTE: Parts purchased over-the-counter are not returnable
We order the components you prefer, and you may choose the shipping. Manufacturer warranty replacement service is included free of charge.
Note: We are happy to install customer-provided parts, or order used parts for your machine. Keep in mind that used parts usually take more time to get, may need to be reordered if there is a defect, and generally do not come with a warranty. Used parts can be a cost-effective solution for adapter cards and motherboards.
Parts we stock: We usually stock desktop power supplies, hard drives, CD/DVD drives, Network Routers/Adapters, SATA/IDE data cables, USB cables, and Fans. Contact us if you need a particular part, and we'll let you know if we have it, or can get it for you.
SATA Power Adapters - We stock limited quantities of two styles of adapters to power internal SATA devices if your power supply only provides the 4-pin Molex connectors:
- Tripp-Lite P945-061 - This is a 6-inch "Y" cable splitter that has one Molex male, one Molex female, and one SATA female. $11.48
- Supermicro CBL-0080-L - This is a 6-inch straight adapter cable that has one Molex male and one SATA female. $7.58
Network Cables: We produce standard or custom Ethernet cables. You have your choice of Cat5 (100Mhz) or Cat5e (350Mhz Gigabase) cables and connectors made using Black Box® premium components. Your cables come with a lifetime warranty (excepting physical damage), and the cost is $3.00 plus $1.00 per foot.
NOTE: Be aware that there are counterfeit cables out there, typically copper-plated aluminum or steel with low-quality PVC insulation. These cables can often be detected by their lower weight when compared to Black Box cables.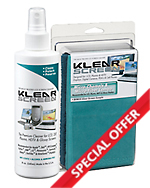 LCD/Flat Screen Cleaning Kit - Safely clean your flat screen notebook or TV with this Apple-recommended kit. KlearScreen 8oz pump spray with Microfiber Terry Kloth & Micro Chamois cloth package. Alcohol and Ammonia-free, this cleaner will preserve the factory coating of your LCD panel. Regular price $27.90, our price: $24.90
---
©Copyright 2002, 2011
Evergreen Computer Services